Tire Rotation Service in Waipahu, HI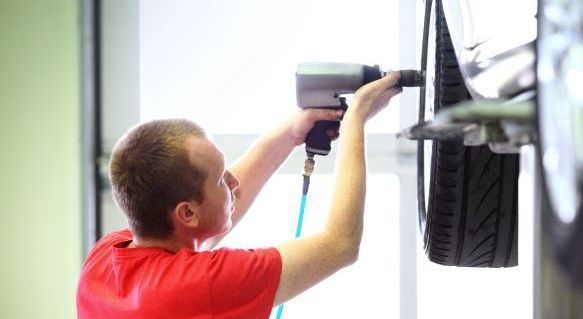 Here at Aloha Kia, maintaining safety on the road is of the highest priority, which is why we strongly recommend staying up-to-date with our tire rotation service. The condition of your tires is crucial to maintaining proper traction on the pavement, especially with the weather we endure here in Waipahu. Call us today at 808-664-6500, or stop by at 94-081 Farrington Highway.
As you make your commute down Queen Liliuokalani Freeway, your tires are progressively wearing down. Unfortunately, they do not all lose their tread at an even pace, making it important to get them rotated so there is an even distribution of the wear and tear. This will prolong the life of your tire tread, meaning you don't wear them down to the nubs and end up having to buy a whole new set. When you bring your vehicle into our service center, our technicians will inspect the tread pattern on each tire, and determine the correct placement so you can get back on the road. Usually, the front tires wear quicker, as they take the brunt of the force on turns. Therefore, switching the back to the front is the most common switch our technicians make.
We know you have a busy schedule and setting an appointment for a tire rotation can seem like quite the interruption to your daily activities. That is why we are open Monday through Friday from 7:00 a.m. to 6:00 p.m., and Saturday 8:00 a.m. to 4:00 p.m., to supply you with hours that will meet your needs. With our Schedule Appointment form, you can set a time for your convenience and we'll be sure to take care of you and your vehicle in a swift manner. Once your tires are rotated, we'll check and make sure your tire pressure is at the appropriate levels and adjust accordingly so you are back on the road with the utmost peace of mind.
Many people have no idea how vital tire rotations are to the safety and performance of their vehicle. It is recommended that you bring your car in every 3,000 to 7,000 miles to help them wear evenly. A good idea is to check out your Owner's Manual so you can see the exact recommendation depending on the make and model of your vehicle. The longer you wait, the more likely you are going to have to invest in a whole new set, which can be pricey.
The team at Aloha Kia highly suggest our routine tire rotation service in Waipahu, HI, to help improve performance and longevity. Stop in today and we'd be happy to get your tires switched around so you can get back on the road!