Aloha Kia Car Ohana Car Wash Service in Honolulu, HI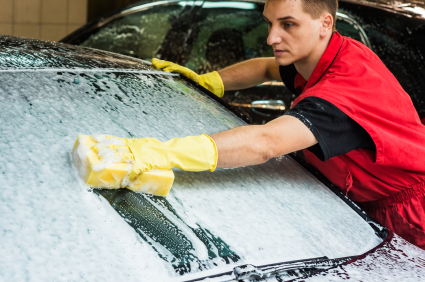 Not only does getting a car wash help your vehicle look its best, it can also prevent long-term damage to the exterior. Here at Aloha Kia, we are excited to offer our new state-of-the-art car wash. You'll be cruising down the coast with a stunning exterior after visiting our service center, so stop by today! We even have ongoing coupons and special offers!
One of the main benefits about taking your vehicle to get a car wash compared to doing it yourself is time. If you lead a busy schedule, it can be difficult to set aside an afternoon to collect the necessary supplies and give your model the attention it deserves. Additionally, if you don't follow the proper procedures, you can often damage the paint job. Or, you could sit back and relax while our knowledgeable detail team do the hard work.
With our Ohana Car Wash Service, you'll get so much more than merely soap and water to make your Kia sparkle. It does start with an automated wash, but that happens in our redesigned machine that provides optimal pressure without any harmful side effects. Then, our staff will apply special Carnauba wax, which protects and preserves the exterior. Even the wheels get their own treatment with tire shine. Last, but certainly not least, the cabin will be thoroughly vacuumed for a clean look inside and out.
Keep in mind that as you drive, dirt, bugs, and other debris get stuck on the exterior. If left alone, these contaminants can actually start to corrode the paint of your car, leaving small but dangerous marks. This can then lead to rust or chipping of the paint. By bringing your vehicle in for regular car washes, you can help avoid this noticeable issue. Our methods remove dirt and debris in a way that is gentle and effective, while sealing all of it with the protective wax. But don't just take our word for it – come and see it for yourself!
With service hours six days a week, including morning and evening times, it's easy to stop by and see us. If you want any further details about our car wash service or any other vehicle-related inquires, you can reach our staff via phone or the online Ask a Tech form. Don't forget to check our valuable coupons as well!
Now is the perfect time to take advantage of our Aloha Kia Ohana car wash service in Honolulu, HI! As part of the Aloha Kia family of dealerships, Aloha Kia Airport is proud to feature this comprehensive option. You can also find it available at our Aloha Kia Leeward location.

Service Hours
808.664.0676
| | |
| --- | --- |
| Monday | 7:00 am - 6:00 pm |
| Tuesday | 7:00 am - 6:00 pm |
| Wednesday | 7:00 am - 6:00 pm |
| Thursday | 7:00 am - 6:00 pm |
| Friday | 7:00 am - 6:00 pm |
| Saturday | 8:00 am - 4:00 pm |
| Sunday | Closed |
Testimonials
Shopped for a Sedona
CARS
September 12, 2017
BING
September 11, 2017
GOOGLE
September 11, 2017
FACEBOOK
August 28, 2017
YELP
August 18, 2017
BING
August 18, 2017
GOOGLE
August 17, 2017
Kia Soul
CARS
August 11, 2017
FACEBOOK
July 31, 2017
YELP
July 25, 2017
Forte
CARS
July 21, 2017
YELP
July 15, 2017
GOOGLE
July 14, 2017
GOOGLE
July 7, 2017
Bought a new 2017 Kia Soul!
CARS
July 4, 2017
Read More